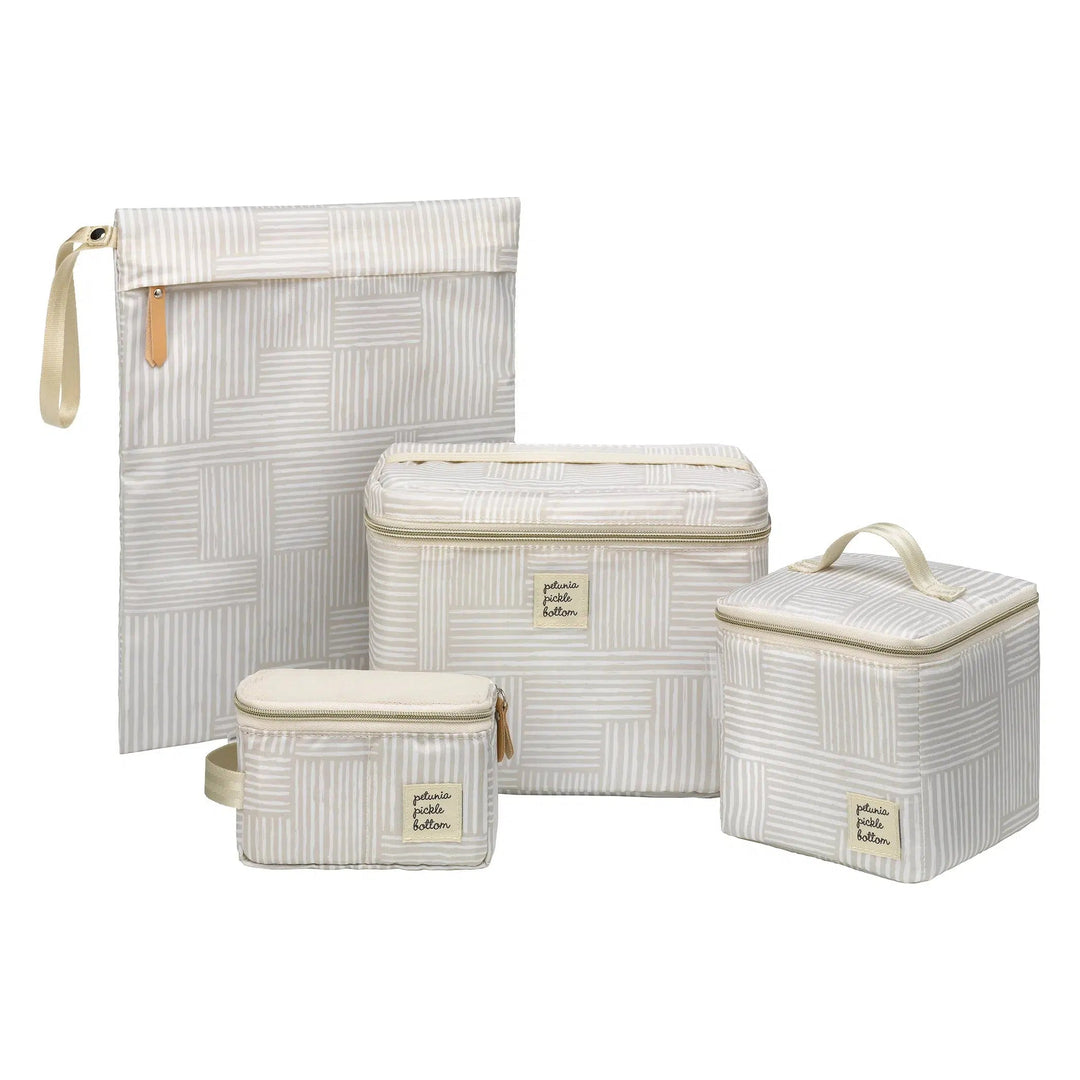 Prompt Pump Kit in Checker Stitch
<! –– Bazaarvoice Shopify Integration Version 2.1 ––>
Complete the Look
Inter-Mix Deluxe Kit in Checker Stitch

$69.00

Wet Bag Duo in Checker Stitch

$29.00

2-in-1 Provisions Breast Pump & Diaper Bag Backpack in Toffee Rose

$189.00

Sync Backpack in Grey Matte Cable Stitch

$179.00
Organize, store, and go! Whether in the house or out and about, the Prompt Pump Kit keeps breast pump accessories orderly and at-the-ready for busy moms. The clever set includes a storage tote for your pump, an insulated Cool Pixel to transport up to 4 bottles of milk, a zippered wet bag, and a packing pixel for additional accessories.
• 4-piece set includes carrying case, insulated Cool Pixel, zippered wet bag, and packing pixel
• Carrying case and Cool Pixel feature top grab handles
• PVC-Insulated Cool Pixel holds up to 4 bottles of milk with ice pack
• Zippered wet bag is ideal for accessories such as flanges, tubes, or empty bottles
• Small packing pixel holds your bits and baubs, from nipple cream to some healthy snacks
• Carry each piece alone, together, or pop into a larger bag. Use with the Provisions 2-in-1 Breast Pump & Diaper Bag or any Petunia Pickle Bottom Diaper Bag.
• All pieces are machine-washable
• Breast pump not included in set
This understated, neutral print adds a hint of fashion to your organization accessories. Ideal for mix and match coordinating with any Petunia Pickle Bottom product. Perfectly paired with the lining of diaper bags and backpacks in the Cable Stitch collection.
Water and stain resistant fabric is easy to clean. Wash with a cloth and mild detergent, or place in your washing machine on the gentle cycle.
• Carrying Case: 9.5" W x 7" H x 6" D
• Cool Pixel: 5.5"L x 5.5"W x 5.5"H
• Packing Pixel: 2.5"L x 5.5"W x 3.25"H
• Wet Bag: 10.74 W" x 13.75" H
It's more than a guarantee, it's a promise. A promise to make better products with innovative designs and high-quality materials, and to support them with unmatched customer service and support.  
Free returns and exchanges within 30 days of purchase. 
Complete coverage for hardware and/or fabric defects for two years. 
Learn more about the Promise of Petunia.